Humro Home Rikisum Homestay
Preferred
Property Type - Homestay
Address - Rikisum
6 Rooms
5.00 Rating
2 Reviews
1 Floor
Check-In 12:00pm
Check-Out 11:00am
Built In 2004
Outside View:
Property Description:
Orientation
Rikisum Home Stay is your preferred accommodation at the Rikisum village on the outskirts of Kalimpong town. The Homestay is located about 15 km from Kalimpong town and may take about 40 minutes to travel to.
Humro Home Rikisum is a three-room Homestay just above the main road. It is located just 4 km from Algarah town in Kalimpong district. The Rai family owns the Homestay and is your host here. The Homestay is well decorated with flowers that grow in abundance in the local climate. The Homestay gives you complete serenity as there are hardly any houses in the vicinity, yet Kalimpong town is just 15 km away.
Most tourists visiting Kalimpong hills might know of Rikisum as a viewpoint with grand views of Mt. Kanchenjunga and surrounding mountains. The viewpoint is located at Rikisum on top of a hill where a British bungalow lies in ruins. The place offers a 360-degree view of the surrounding. Within a very short distance from here are several tourist destinations such as Lava, Pedong, and Rishyop. Rikisum is a quaint little village located on the Kalimpong Lava Highway. You can stay at Rikisum and easily comfortably enjoy the sights of Rikisum as well as all these nearby tourist places.
Food and Dining
We provide veg and non-veg food options for the guests. Lunch includes eggs and dinner normally consists of Chicken.
Rice, Dal, Sabji, and other standard assortment are also provided. Breakfast is of Roti or Puri depending on your preference. The menu is fixed and we can not provide food on per order basis. In case you have a special preference, it is recommended that you inform the same well in advance to us.
Location / Accessibility
Birding is a common tourist activity here. The surrounding hill is full of a variety of birds. Being close to the Neora valley National Park, which is quite well-known for birds, you can get to see a variety of birds here.
Commonly sighted birds include Rufous-winged Fulvetta, Whiskered Yuhina, Firebreasted Flowerpecker, Rufous-vented Yuhina, Satyr Tragopan, Rusty-bellied Shortwing, Broad-billed Warbler, Blue-fronted Robin, Yellow-throated Fulvetta, Rufous-throated Wren Babbler, Grey-sided Laughingthrush, Scarlet Finch and many others. Walking and hiking in the forests is also popular activity here. You must walk up to the Rikisum viewpoint for a grand view of the surrounding hills. Also, there is a trek to the Rishyap village from here. This trek is about 8 km and takes close to 2 hours one way.
A big advantage of Rikisum is its central location. Which makes it easily accessible from nearby tourist destinations such as Lava, Rishyap, Pedong, Sillery Gaon and Kalimpong. You can stay here and enjoy sightseeing at any of these destinations.
Rishyap is the closes destination with a driving distance of about 8 km which can be covered in about 30 minutes. You can also visit Pedong village about 10 km away. Hillary gaon, a new and upcoming village that has become quite popular among tourists can be reached easily as it is 12 km from here. Lava is also about 12 km away. Last but not the least, the district headquarter of Kalimpong town is about 16 km away.
Host Overview: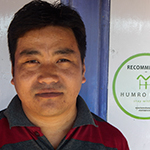 Mr. Krishna Rai - Male
About Your Host
Mr. Krishna Rai is a local villager who has converted his home into a Homestay. With help from his brother he manages the homestay. His brother has several owns the first Homestay of Rikisum. Mr. Rai has his Homestay adjacent to that of his brother.
Room Details:
| Room Type | No of Rooms | Occupancy | Details |
| --- | --- | --- | --- |
| Standard | 6 | 2 | |
Map:
---
The closest railway head of Rikisum is the New Jalpaiguri station. Try to avail of the evening trains, which will arrive in New Jalpaiguri the next morning and you can reach Rikisum in the daytime. You can avail of hired cars from New Jalpaiguri, Siliguri, and Bagdodra. Buses services also run to Pedong (the nearest town to Rikisum) from Siliguri to Kalimpong at regular intervals. Rikisum is just 1-hour journey from Kalimpong.