Humro Home Green Peak Lodge
Property Type - Homestay
Address - Rishop
11 Rooms
Outside View:
Property Description:
Orientation
Humro home Green Peak Lodge is located at Rishop in Kalimpong district. The property is located in the eastern part of the village and vehicles can approach the doorstep of the property.
Humro Home Green Peak Lodge is a 3-story accommodation with a beautiful view of the Himalayan range including the Kanchenjunga massif. The entire eastern Sikkim hills including parts of Tibet are visible from the property on a clear day. The lodge is situated at an altitude of 8,500 ft.
There are 11 rooms at the property. Rooms are divided between the ground floor and the first floor, most rooms open to the mountain with a balcony in front. A couple of rooms are located in a way that the Kanchenjunga massif can be viewed from the rooms themselves.
Food and Dining
Normal Bengali food is available at the lodge including Rice, Chapatti, vegetables, chicken and egg. Fish is not served regularly as fresh fish is rarely available here.
Location / Accessibility
Most tourists are attracted to Rishyap for its natural beauty. Rishyap is uniquely positioned offering more than a 200-degree wide view of the surrounding hills. Almost the entire eastern Sikkim district is visible from here. You can see the Pakyong airport, Aritar, Nathula pass etc. from here.
If you are visiting the hills to soak into nature's bounty, then Rishyap is the ideal place for you. You can take a walk in the village, interact with local villagers and in general have a peaceful time at the lodge. Birding is also a popular activity here. The area is quite popular among bird enthusiasts.
A 4 km hike through the forests will take you to Lava. You can enjoy the local sightseeing options of lava here including the Lava monastery and nature interpretation centre.
Local sightseeing in-vehicle normally includes a visit to Kolakham and the Changey falls. You Can Trek along the Neora Valley forest and reach Jorepokhri. And can also walk down to Shiva Buddha Temple. You will need to walk up a steep uphill trail for Changey Waterfall. Pedong, Rikisum, and Algarah are also short drives away.
Kalimpong - 28 km, Lava - 9 km, Pedong - 16 km, Gangtok - 89 km, Darjeeling - 75 km, NJP - 110 km, Bagdogra - 116 km
Host Overview: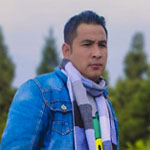 Madan Rai - Male
About Your Host
The host is born and brought up at Rishop. He has many years of experience in managing the lodge and understands guest needs well. Madan has also worked at a resort in Sundarbans and has a better experience of guest handling than most villagers. Madan also loves to travel, he would sometime lease out his property and travel to different places.
Room Details:
| Room Type | No of Rooms | Occupancy | Details |
| --- | --- | --- | --- |
| Dormitory | 11 | 2 | Ground and First floor rooms |
Map:
---
There are two main routes to reach Rishyap. If you are travelling from the plain side, you would do better to travel to Gorubathan (in Dooars) and from here take the uphill road reaching Lava. From Lava to Rishyap is 4 km by foot but about 9 km through the main road. If you are travelling from NJP or Bagdogra, this will be an easier way to travel with a total travel distance of about 110 km.
If you are travelling via hill stations such as Darjeeling or Sikkim, you would first have to come to Kalimpong and then take the Kalimpong lava road. Take a diversion of about 7 km before reaching Lava and a 2 km unpaved hill road from here will take you to Rishyap