Humro Home Mandala Homestay
Property Type - Homestay
Address - Phadamchen
9 Rooms
Outside View:
Property Description:
Orientation
Padamchen is a small village, part of the Old Silk Route, which connects India and Tibet. The place is located about 10 km from Dzuluk (pronounced Zuluk). Our lodge here is a 9-room large accommodation that can accommodate as many as 50 tourists at a time.
Humro Home Mandala at Phadamchen is located just 100 meters above the forest check-post. It is a two-storeyed building built along the slope. The entrance to the main level is just below the parking area. The first level has 5 rooms with an open dining space that overlooks a balcony. The second level has 4 rooms with a common large balcony as well. The structure is made of brick and mortar.
There is another level below the first one which houses the orphanage children. The entrance to that is separate. Guests can interact with the children if they wish.
Our homestay is located at an altitude of 8000 ft. Since other places on the Silk Route, like Zuluk, Gnathang, Kupup, etc are located at higher altitudes (12,000 ft and above) where it is difficult to get amenities like geysers, etc, and there is likely to be water problems, Padamchen is a better base for tourists since these amenities are available here.
Since Rongli town has the closest medical facilities, it is also safer to stay at Padamchen, especially for senior tourists.
There are 9 rooms in total, all with attached Western-style washrooms having modern amenities like a geyser. Of the rooms, four are 4-bedded and five are 2-bedded.
Location / Accessibility
Immerse yourself in nature. Enjoy the uninterrupted views of the majestic mountains and the unique sight of the Zigzag road crisscrossing across the mountain valleys.
The surrounding forest area has a multitude variety of birds and hence birdwatchers would enjoy spending time here.
The main attractions are visits to Zuluk, Zigzag Road, Kupup Elephant Lake, the Yak Golf course (the highest golf course in the world, at over 13,000 ft), Tsomgo Lake, and Old Baba Mandir (which has the bunker of the legendary Baba Harbhajan Singh).
This is part of a full-day tour package. You will start with your homestay in the morning and be back by the evening.
At 8000 ft., Padamchen experiences very pleasant weather all year round. Summer temperatures range between 15 degrees and 23 degrees. In winter, the mercury dips to temperatures between 1 degree and 11 degrees.
Rongli (about 24 Km) and Aritar (30 Km), Rongli is the closest town with shopping and other facilities. Aritar town is famous for Aritar Lake
Host Overview: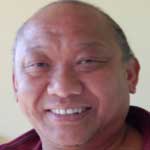 Mr Penjo Bhutia - Male
About Your Host
Mr Bhutia is a monk who runs a homestay. He runs a free school and orphanage. He is assisted in day-to-day running of the homestay by the local youth. He started this homestay about a decade back as the Silk route area became popular.
Room Details:
| Room Type | No of Rooms | Occupancy | Details |
| --- | --- | --- | --- |
| Standard | 4 | 4 | |
| Deluxe | 5 | 2 | |
Map:
---
From NJP / Bagdogra, one route takes you via Rangpo to Rongli. Drive 79 Km to Rangpo and from there carry on for another 35 Km to Rongli. Rongli to Mandala homestay is about 24 Km. The second route is via Kalimpong and Rishikhola border to Rongli. The total journey would be about 113 Km