Humro Home Daragaon
Property Type - Eco-Resort
Address - Daragaon
6 Rooms
2 Floor
Check-In 12:00pm
Check-Out 11:00am
Built In 2012
Outside View:
Video Gallery:
Property Description:
Orientation
Humro Home Daragaon is a new resort located on a hilltop on the Lava Gorubathan highway. It is an eco-resort located on a hilltop on the Gorubathan Lava road. The place is about 74 km from Siliguri and 22 km before Lava. It is located not far from the Jhandi Eco Hut at Jhandi Dara. Spread over about 4 acres of land, the 4 room eco-resort offers you a large area to walk around and enjoy the bounty of nature at its serene best.
The resort provides a Bird's eye view of the surrounding plains of Dooars and the Hills. The place is ideally located between the hills and Dooars. Whether you are touring the Gorumara Jaldapara Dooars circuit or the Kalimpong – Lava – Lolegaon hill circuit, a couple of nights here should be a must.
The resort presently has 4 lodges, and construction for adding more rooms is going on. There is a farm adjacent to the resort where cows, chickens, and rabbits live happily with the attention of guest kids. There is a stone-built viewpoint where you can spend a few hours. There are 4 rooms in the main bungalow. There are two rooms on the first floor and two on the ground floor. The first floor rooms have better views and Television in the room. The ground floor rooms are equal in size and amenities but do not have a television in the room. Additionally, there are 2 cottages as well.
Food and Dining
Most of our tourists prefer Bengali food and we serve it well here. There is a small dining hall where experienced cook serves you delicacies. Being situated in an offbeat area, we cannot serve you all the food that you may want. Please communicate with the resort manager well in advance and take his confirmation before travelling in case you have special food requirements.
Location / Accessibility
Avid travellers who want to enjoy a place without bothering too much about hectic sightseeing will find this place ideal for his / her tour. For you, this is an ideal leisure break from the more touristic destinations. The entire hill and the resort can be yours as there is hardly anyone around except for our resort staff and the guests. During the day you may go for a hike to the nearby Dalimkot. This is a centuries-old unique fort on a hilltop created by the local Lepcha people. The fort is now in ruins but the hilltop provides excellent panoramic views of the surrounding area. You need to be prepared for a small hike as the last stretch to the fort is not motorable.
Lava – Loleygaon – Rishyop area can easily be visited as a day sightseeing from here. Lava is just 45 minute drive from our resort. You may spend a day sightseeing in the area and return to your resort in the evening. Our resort is located on the hills facing Neora Valley National Park. You may visit the National Park from here if you are a nature enthusiast. The Sakkham picnic spot is about 35 km from our resort and can be part of your day tour. Gorumara National Park is about 1.5 hour drive from our resort too. In terms of its location, Daragaon is a ridge almost parallel to the Jhandi Dara famous for the Jhandi eco hut. The Arial distance between the two is just 5 or 6 km. Compared to Jhandi Dara which is an older tourist destination, Daragaon is a recent addition. You have much more open space here. Here you get complete serenity with just 4 rooms in a bungalow and peace all around. The Fagu area, famous for its great views of the Neora river and Fagu tea estate, is also easily accessible from here. The Fagu tea estate is visible from our resort and driving time to is less than an hour to the garden.
Host Overview: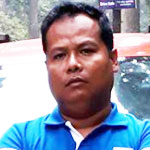 Anjan Rai - Male
About Your Host
Anjan is a resident of the Gorubathan area with a passion for exploring new places and new opportunities. He developed this 2 Acres of land on the hilltop with his passion into a farmhouse and an eco-resort.
Room Details:
| Room Type | No of Rooms | Occupancy | Details |
| --- | --- | --- | --- |
| Cottage | 2 | 2 | |
| Standard | 4 | 2 | King size beds |