Humro Home Chandrakala Homestay
Property Type - Homestay
Address - Soureni
5 Rooms
3 Floor
Check-In 12:00pm
Check-Out 10:30am
Outside View:
Property Description:
Orientation
It is a 3-storied well-decorated property situated between the emerald green tee garden. One variety of multipurpose stores is also attached to this property which is run by the host.
Location / Accessibility
Guest can start their day with a cup of Darjeeling tea by seeing the scenic beauty of Lash green emerald tea Garden view just opposite the homestay. Guests can enjoy the off-roading to Camdara, Mechi River to Indo Nepal border, Timling Viewpoint. Can visit Mirik Lake, Simana, the Pashupati market of Nepal, and Kannyam (Nepal) staying in this homestay.
Host Overview: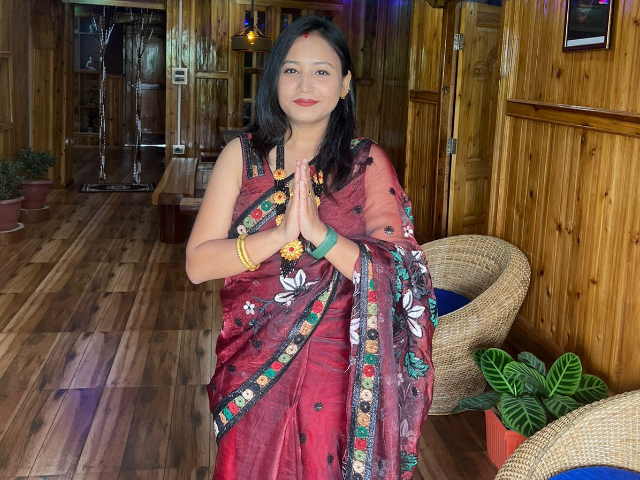 Swadhina Pradhan - Female
About Your Host
Swadhina is a very energetic and charming lady who manages her homestay along with her father-in-law and mother-in-law. She has good working experience in IT, hospitality, and hospitals in the past. She also manages her shop in the area.
Co Host Details
Mr. Sanjay Pradhan - Male
Mr Sanjay Pradhan is an Ex-Army who has served in all corners of the country. He is a very good guide and can take tourists to the various places surrounded by Soureni.
Room Details:
| Room Type | No of Rooms | Occupancy | Details |
| --- | --- | --- | --- |
| Deluxe Double | 4 | 2 | The rooms are having different name |
| Standard | 1 | 2 | |
Map:
---
The nearest railway station New Jalpaiguri is 60 km away from the homestay via state highway -12 which will take approx 2 hrs to reach. The nearest airport Bagdogra is 55 km away from the homestay which will take approx 2 hrs to reach. The nearest town to come famous tourist spot Mirik is only 5 KM and queen of Hills Darjeeling via Ghoom is 49 km away from the homestay.