Humro Home Gurung Homestay Darap
Property Type - Eco-Resort
Address - Darap
8 Rooms
1 Floor
Check-In 1:00pm
Check-Out 12:00pm
Outside View:
Property Description:
Orientation
Darap Village is located about 8 km from Pelling town in West Sikkim. The best time to visit this region is during the months of summer and autumn as far as temperatures are concerned, as monsoons may at times have heavy rainfall and winters may turn out to be pretty chilly. Darap is located at an altitude of about 5700 ft and is inhabited predominantly by the Limboo community. This offbeat location has gained in popularity as a village destination, with Humro Home Gurung Homestay being a pioneer in hosting tourists.
Humro Home Darap is located in Darap village. The Homestay is located 8 km from Pelling town towards Yuksom. The property itself is a brief distance from the main road and one can take an easy walk up. There is a small curved pond in front of the homestay, with some local fish swimming in it, providing a serene ambience. A small wooden bridge across the pond adds to the quaint rustic charm of the place.
A unique feature of this particular homestay is the room with walls made of stone.
Rooms - We have 2 Double bedded stone rooms, 2 Double bedded Wooden rooms and 4 Double bedded standard rooms in the property.
The Homestay has located 8 km from Pelling towards Yuksom. It is about a 5-6 minute walk up to the property from the main road. You will enjoy this approach as there is a little stream flowing along the path which accompanies you up to the homestay.
A touching and humbling tradition here is that before major meals, the hosts will bring water in a container for you to wash your hands.
Location / Accessibility
Pelling is close enough to visit some sightseeing spots yet far enough away from the hustle and bustle. You can visit the famous Khecheopelri Lake in Pelling as well as the fairly recently inaugurated glass skywalk.
The area is surrounded by nature and local habitat so village walks and short hikes are the popular activities here. There are a number of streams nearby where you may spend some quiet time with a fishing rod. The homestay has a small library where you can while away some of your time browsing through reading material of various kinds. Most of the contributions are from previous guests who carried books to read and then generously left them here for others to enjoy.
You can visit the local butter and cheese factory and also the Limboo Heritage House, built in the year 1810. Being an offbeat destination, your time is spent mostly interacting with the locals and soaking in the quiet solitude with books or just enjoying the hospitality of the hosts.
The best time to visit Darap is in the summer months of April /May when the temperatures are very moderate and welcoming and the skies are clear. October through November is another ideal time if you enjoy a bit of winter (not too severe yet). The winter season will be set in and the surrounding peaks will start taking on the white sheen of fresh snow.
Pelling town is 8 Km away, and Yuksom is 27 Kms. The closest airport Bagdogra is about 143 Km from Darap village.
Host Overview: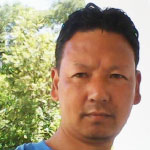 Shiva Gurung - Male
About Your Host
Shiva Gurung is the first local villager who converted his home into a homestay that inspired many others. Darap has become popular as a homestay destination largely due to his influence and initiative. It is visited by a large number of tourists every year.
Room Details:
| Room Type | No of Rooms | Occupancy | Details |
| --- | --- | --- | --- |
| Deluxe | 2 | 2 | |
| Deluxe Double | 2 | 2 | |
| Standard | 4 | 2 | |
Map:
---
Darap can be reached from Pelling through the Pelling – Yuksom road. It is 125 km from Gangtok and the distance from Siliguri by road is about 140 km.