Kanchenjunga Homestay Kalimpong
Property Type - Homestay
Address - Kalimpong
5 Rooms
Property Description:
Orientation
This is a homestay located close to the Army Gulf course in Kalimpong. Just a couple of km away from the hustle and bustle of Kalimpong town is the peaceful Golf course area. The best accommodations in town, historic buildings, and Monasteries are situated here. The area is also referred to as Durpin Road by the locals as well as by the name of Chandraloke.
The Homestay is located close to Morgan House, a historical building that is now converted into a tourist lodge by the government. The Durpin Dara viewpoint is also within walking distance. The 27th Division golf course of the Indian Army is just adjacent to our homestay here.
We have 5 double rooms here. All rooms have attached western toilets with running hot and cold water. There is a television in the room. Room sizes vary and are not all the same as this is a homestay and the house was built primarily for the accommodation of the host.
Food and Dining
We try to serve organic and local food to the best extent possible. We would also like to serve you local cuisine if you are interested.
In case of any specific order or different requirement please inform us at the time of booking. Special food requirements can be served only on confirmation from our side. Please bear in mind this is a homestay and not a hotel and the choice of food will be accordingly limited
Location / Accessibility
All the typical sightseeing options of Kalimpong city are available to you here. You can do a full-day or half-day Kalimpong city tour. Or if you have more time you go visit the nearby destinations of Kalimpong
The main town can be reached on foot by 20 minute's walk. The popular Durpin Dara viewpoint and the adjacent Zang-Dok-palri monastery are just 20 minutes walk from here.
On a clear day, you can see the mesmerizing view of Mt. Kanchenjunga right from our homestay.
The view of Sikkim Himalayan mountains as well as Tibetan hills is also amazing. You may not find it necessary to travel around and may like to spend a day or two just soaking in the peaceful natural environment of the surrounding.
Kalimpong has a unique mild weather, it is not very hot during summer months and neither very cold during...
Durpin Dara is just 10 minute walk. Morgan House and Golf course are even nearer.
Host Overview: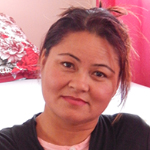 Mona Gurung - Male
About Your Host
Mona Gurung is a local lady born and raised in Kalimpong. Her hospitality is well appreciated by every guest who visits our Homestay here. She is quite soft-spoken and has excellent knowledge of Kalimpong town and its history.
Room Details:
| Room Type | No of Rooms | Occupancy | Details |
| --- | --- | --- | --- |
| Deluxe | 5 | 2 | |
Map:
---
After you reach Kalimpong take the road going toward Durpin Dara view point. As you approach close to Morgan House, you will be able to locate our homestay which is beside the road.