Humro Home Molomulee Homestay
Property Type - Homestay
Address - Gorubathan
6 Rooms
2 Floor
Check-In 12:00pm
Check-Out 11:00am
Outside View:
Property Description:
Orientation
Gorubathan Tar is a small village, the word Tar indicating a tabletop or plateau. If you are looking for a completely relaxed time to get away from your daily stresses and spend some quality time with your family, come and visit us. Its location gives you the option of exploring the local attractions of the Gorubathan region, as well as visiting the laid-back yet interesting town of Kalimpong about 3 hours' drive away.
The surroundings are steeped in the colors of nature, with tea gardens, rivers, and fruit orchards nearby. It may be called a pollution-free region, with hardly any vehicles plying on a regular basis.
Humro Home Molomulee Homestay is a single-storeyed house, with 5 rooms capable of accommodating a maximum of 10 persons. The dining cum kitchen space is a separate covered area, outside the main building. The homestay has a tastefully done up sitting area, where you can spend time with family and friends. The rooms are bright, with plenty of natural light pouring in through the windows.

The property is surrounded by abundant greenery and has a covered greenhouse/garden where the hosts grow their vegetables organically. Space is also a riot of colors because of the variety of flowers that bloom in the pots. You will also find many kinds of exotic fruits growing here, like passion fruit, avocados, and peaches apart from bananas and litchis.

There is a small man-made water body behind the house, besides which guests can seat in the evening and enjoy a cup of tea. Each room has an attached Western-style modern washroom. No geysers are fitted but you will be provided with hot water in buckets.
We have situated about 4 Km from Gorubathan bazaar, just above the main road. Vehicles can drive up to our doorstep and there is a parking space in front.
Food and Dining
Organically grown vegetables are served to you.
Location / Accessibility
You can walk to Gorubathan Tar to stroll around the village. Visit the church next to the property which is brightly painted in yellow shades. There is a Kabir Math and a 200-year-old Stupa nearby.
Drive to Ambiok viewpoint, hanging bridge at Chhel river, Upper Fagu Chorten, and Jhandi viewpoint. A local guide or escort is necessary to visit all these places, at a charge. Further ahead you can visit Lava.
Treks to Dalim fort, Panchpokhri, and Chhangey falls will allow you to explore the area. For the less adventurous, you can drive to these places. You can go to the banks of the Neora river nearby to participate in beekeeping activities.
If you are interested, your host can take you to Mission Hill tea garden where, for a nominal charge, they will let you observe the tea-making process and explain it. Beyond the estate, you will find the small Sakam hydel project.
Gorubathan Tar is located at an altitude of 3800 feet. The maximum temperature here during the summer months is around 27 degrees and the minimum is around 21 degrees Celsius. Winter temperature hovers between a maximum of 19 degrees and a minimum of 7 degrees. August is usually the warmest month here, with January being the coldest. As you can make out, warm clothing is required only during the peak winter season.

Do remember to carry an umbrella during summer as rains are common here at that time.
Host Overview: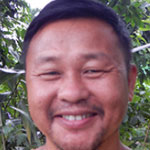 Mr. Ongden Molomu - Male
About Your Host
Ongden Molomu is a young villager running a shop. About a decade back, he decided to convert his residence into a homestay. Now he runs it successfully with his wife Pramila. His father, a retired gentleman, is a soft-spoken person who interacts with guests regularly. Bengali guests will be pleasantly surprised at his fluency in their language!
Room Details:
| Room Type | No of Rooms | Occupancy | Details |
| --- | --- | --- | --- |
| Three Beded Room | 3 | 3 | |
| Standard Double | 3 | 2 | |
Map:
---
From Siliguri, drive up to Damdim, then take a left towards Gorubathan fatak. From there, take a right turn to Fagu, drive past Mission Hill tea estate and you will reach our homestay in another 4 Km. We are about 8 Km from the fatak.
If you approach from Jhandi or Lava, then pass Gorubathan bazaar, take a left turn to Gorubathan Police Station, and continue for about 3.5 Km to arrive at our location, However, this road is not in good condition. If you take the previous route, via fatak, it might be slightly longer but road conditions are much better and the drive is prettier.