Humro Home Parijat Homestay Charkhole
Property Type - Homestay
Address - Charkhole
2 Rooms
2 Floor
Check-In 12:00pm
Check-Out 11:00am
Outside View:
Property Description:
Orientation
Charkhole, a small hamlet located at an altitude of 5500 ft, has now become a popular offbeat destination. It has the Teesta river flowing in the South West and the majestic mountains towards the North East. It is a birdwatcher's haven and a nature lover's perfect retreat.
Humro Home Charkhole is a two-storied building off the main road leading to the Charkhole Hilltop. One can breathe in the fresh mountain air once you get off the vehicle and off to one side of the property, espy a great view of the Kanchanjungha range. You are welcome at the reception downstairs and the rooms are located on the first floor.
All rooms have attached toilets with running hot and cold water. There is a television in the dining hall. There are no individual televisions in the rooms.
The two-storied building offers a total of 3 rooms on the first floor. The ground floor is occupied by the host and also houses the main kitchen and dining area for the guests.
The area is heavily forested all around and has an open mountain view in front. Charkhole has come into prominence due to its pristine beauty and great mountain view. Other smaller hamlets in the area such as Pubung, Samtahar, 27 Mile, etc can be reached from here.
Food and Dining
Breakfast, Lunch and Dinner is included in the package for tourists. Additional food is charged extra. There are not too many eating options around so guest has to depend on the homestay for food.
Location / Accessibility
The primary attraction is the great mountain view. Being in a quiet and peaceful corner of the hills, the village is an excellent place for one to walk around and enjoy nature's bounty. The forested hills are also a great place to go for short and medium treks. Charkhole is also a very good birding destination, where you can spot some rare species of Himalayan birds and butterflies.
Loleygoan and Chuikhim are the two popular tourist destinations near Charkhole, both within a short driving distance from here.
Loleygaon is just 12 km through a heavily forested road. However, the travel time will entirely depend on the road condition. Since the road is not very often used, it can take quite a long if the road is not in good condition. Loleygaon can also be reached by a trek through the forests which take about 2 hours. Chuikhim on the other hand is about 18 km away and should be reachable in 45 minute drive.
Host Overview: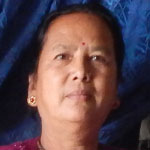 Monika Thapa - Female
About Your Host
Monika Thapa is a soft-spoken elderly lady who manages the homestay with the help of her two sons. She treats all tourists with affection and care. She is loved and respected by the locals. Her husband has a treasure trove of stories about the area that he loves to share with tourists.
Room Details:
| Room Type | No of Rooms | Occupancy | Details |
| --- | --- | --- | --- |
| Standard | 2 | 2 | |
Map:
---
Charkhole can be reached either via Kalimpong or through Dooars.
Charkhole is a village about 12 km from Loleygaon. You can reach Kalimpong via Relly road in about 1.5 hours. Via Kalimpong, the distance is about 100 km from NJP and it takes about 4 hours to arrive. The second option is to go to Charkhole via Bagrakote in Dooars. This road passes through Chuikhim which is another hill station. The total distance would be about 70 km through this route. The third option is to reach Charkhole via Teesta dam near Rambhi Bazar. This route is about 75 km long and takes about 3 hours to arrive.