Humro Home Lakpa Homestay Rangaroon
Property Type - Homestay
Address - Rangaroon
4 Rooms
2 Floor
Check-In 12:00pm
Check-Out 11:00am
Outside View:
Property Description:
Orientation
Rangaroon, Rangaroong, Rai Gurung, Rangeyroong – all these names suggest a beautiful village less than 20 km from Darjeeling town. The attraction of the place is its proximity to the popular hill station and an excellent view of the Himalayan Mountain range from the entire village. You can stay at Rangaroon and undertake the regular sightseeing options of Darjeeling.
Rangaroon Homestay of Humro Home is a two-room accommodation located on the main road. Across the road, you can see the cardamom plantations to one side and the valley drops away towards tea gardens, providing a breathtaking view. The property itself is a brick-and-mortar structure and the hosts live on the upper floor.
This is a small Homestay with just two rooms. One of the rooms is larger and can accommodate 3 guests; the other room is smaller and can accommodate a maximum of 2 guests. Both rooms have attached toilets with running hot and cold water.
Food and Dining
Rangaroon is a small village and there is no functioning restaurant in the area. So if you are in the village, you must have your meal at the Homestay only. The food served here is home cooked in the traditional Nepali style. You will get mouth-watering vegetables much of which is organically grown without chemical fertiliser. For non-vegetarian guests, we normally serve a Chicken meal for Dinner and Eggs for Lunch. We are flexible with your preference of food and try to serve the guest as per your requirement subject to availability. You should discuss your food with the host in advance as last-minute orders cannot be served in the Homestay.
Location / Accessibility
Most visitors come here to relax and enjoy the natural beauty of the surroundings and the pleasant weather. The village people are very friendly and walking in and around the village under the watchful eye of the Kanchenjunga, the guardian deity of the hills is an experience you will cherish for a lifetime. Birders can spot a few varieties of avian species.
The main activity here is village walks. If you are slightly adventurous, you can walk down to Rungdung Khola [meaning river] for some fishing. You can take some packed food from the homestay and enjoy a picnic lunch next to the river. Keen trekkers can hike to Dawaipani through a forest trail.
You can drive to Darjeeling town for visiting the sightseeing places there. If you are an early riser, you can leave at about 3 am to visit the sunrise point at Tiger Hill. You can walk to Mata Singha Mandir, a 15-20 minute climb up. Other places you can visit are Takdah, Tinchule, and Lamahatta.
At about 6000 feet, Rangaroon enjoys pleasant weather all year round. Temperatures would range between a maximum of 28 degrees and a minimum of 2 degrees. You are recommended to carry some light woollens in summer and heavy woollens in winter.
Darjeeling – 20 kms Kalimpong – 47 kms NJP / Bagdogra – 78 kms
Host Overview: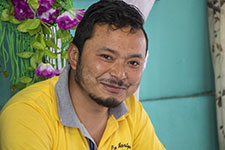 Lakpa Tamang - Male
About Your Host
Lakpa Tamang is a young and energetic host, committed to providing guests with the best hospitality. He is ably supported by his wife, both of whom are born in the area. Together, the young couple, along with Lakpa's parents, make you feel totally at home.
Room Details:
| Room Type | No of Rooms | Occupancy | Details |
| --- | --- | --- | --- |
| Standard | 4 | 4 | |
| Standard | 4 | 4 | |