Humro Home Chefung Khim Ravangla
Property Type - Homestay
Address - Ravangla
3 Rooms
1 Floor
Check-In 12:00pm
Check-Out 11:00am
Outside View:
Property Description:
Orientation
Humro Home Ravangla consists of 3 cottages surrounded by avocado trees and a kiwi fruit farm. The branches play host to various birds whose twittering keeps you entertained all day. You can spot squirrels running up and down the trees. Since Sikkim state has been declared organic, all the food here is grown organically.
The vehicles do not reach the homestay and guests can enjoy a leisurely walk for about 5 minutes on the last stretch to the homestay.
The laid-back little town of Ravangla is situated in South Sikkim at an altitude of 7000 ft. The elevation allows a panoramic view of the surrounding mountains. Mt.Pandim, Mt.Siniolchu, and Mt.Kabru are a few of the major peaks visible from Ravangla.
Our homestay at Ravangla has located about 3.5 km from the heart of the town, overlooking the valley. There is a small grassy area in front where you can chat with the host and have your morning tea.
There are 3 cottages which can accommodate 3-4 persons in a cottage. The rooms are carpeted and have wooden panelling on the walls. The washrooms are Western-style and have geysers.
Food and Dining
Since you are in the organic state of Sikkim, you partake in vegetables that are freshly grown on the host's farm.
Another attraction in our homestay here is a variety of homemade wines from grapes, guava, ginger and rhododendron. If you are interested, you can taste the local drink Tungba, made from millet, which is served in a bamboo container with a straw.
Location / Accessibility
Ravangla's famous Buddha Park is a must-visit. It features a 130-ft tall statue of the Buddha. Ravangla Bazar, Dorling Monastery, and Borong Village are within driving distance from the homestay.
In secluded peaceful hilly hamlets such as Ravangla, much of the activity is nature-based. Walk to Ravangla village and you will be enchanted by the old traditional houses. If you are so inclined, you can participate in basic farming activities with the host.
The numerous birds will keep you guessing as to their particular species.
Namchi is 28 km away, Temi Tea Garden is 21 km, and Pelling is 48 km away.
The state capital Gangtok is about 70 Km to the East. The closest airport is Bagdogra, about 130 Km away.
Host Overview: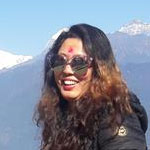 Deepak Chamling - Male
About Your Host
Deepak Chamling is an army veteran and now involved with social work in his village. Apart from this, he has his own farmland which he tends as a livelihood. He runs this homestay with the help of his wife Chuki Nadikpa. She runs the kitchen efficiently and the couple is very involved in making their guests feel at home.
Room Details:
| Room Type | No of Rooms | Occupancy | Details |
| --- | --- | --- | --- |
| Deluxe | 3 | 3 | Standard |
Map:
---
Ravangla can be easily reached by air by taking a flight to the nearest airport- Bagdogra in Siliguri, West Bengal. The airport is around 129 km away and it takes approximately 4-5 hours to reach the airport. One can hire a private cab/taxi or can even opt for a shared taxi.