Humro Home Riva Homestay
Property Type - Homestay
Address - Darjeeling
3 Rooms
Outside View:
Property Description:
Orientation
Humro Home Riva is a Homestay located a little away from the heart of the town, yet very close to many attractions of Darjeeling town. It is situated just on the main road and is easy to reach and locate. The Homestay is easily accessible by vehicles and even shared taxis are available frequently to go anywhere from here. The Humro Home Riva homestay is situated on Lebong cart road in an area known as Singmari. It is situated just below the Darjeeling Zoo and HMI.
This homestay is within walking distance from the main town. Vehicles will take 4 to 5 minutes to drop you in front of the Homestay. Like most Homestays and homes in Darjeeling town, do not expect a lot of open space as space is at a premium in this town. However, there is an open terrace on the rooftop which is often a great place to luxuriate in the beauty of Darjeeling hills.
We have a total of three rooms here. Two rooms are downstairs, these are double bedded rooms that can be occupied by a maximum of 3 people. There is a family room upstairs where 3 to 4 people can stay. The Family room consists of 2 rooms that are interconnected.
Food and Dining
The owners of the Homestay also run a restaurant, so food choices are wider than you would normally expect in other homestays. The restaurant is open throughout the day.
Normal lunch comprises Fish / Egg along with Rice, Dal, vegetables, etc. In Dinner, you are served the chicken with a similar assortment. Indian breakfast is served in the morning along with tea. Additional food can be ordered as per requirement and against additional payment.
Location / Accessibility
All the usual sightseeing activities of Darjeeling town are available from this homestay. Generally, tourists undertake 3 points and 7-point sightseeing of Darjeeling town, many of these points are located close to the Homestay. Standard, as well as customized activity itineraries, can be provided by Humro Home travel consultants for guests who want to stay at Humro Home Riva Homestay.
The Himalayan Mountaineering Institute and the Darjeeling Zoo are just 200 meters from this Homestay. The popular Padmaja Naidu Park is about 10 minute's walk. Tenzing rock site, a popular place for people to try their hand at rock climbing, is about 500 meters away. Picturesque St. Josephs school, which is the site of many movie shoots, is also 5 minute's walk.
Darjeeling is popular for its pleasant weather during summer and cold winters. The summer temperature rarely goes above 20 degrees. Winter can be cold with temperatures dropping well below 10 degrees. Snowfall is rare in Darjeeling but the temperature during winter occasionally goes to subzero, especially during the night. Monsoon months witness heavy to very heavy rainfall around here.
Happy Valley Tea Estate 0.6 km Mahakal Mandir 1.6 km Himalayan Mountaineering Institute And Zoological Park 1.8 km Japanese Peace Pagoda 3.2 km Ghoom Monastery 4.9 km Tibetan Buddhist Monastery Darjeeling 5.5 km Tiger Hill Sunrise Observatory 7.4 km Tiger Hill 7.4 km Singalila National Park 27.8 km.
Host Overview: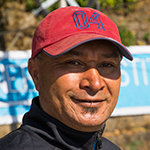 Mr.Subal Chettri - Male
About Your Host
Mr. Subal Chettri spent several years in the travel industry before starting his Homestay. This puts him in a spot in his ability to understand guest needs. Subal is an experienced guide and trek leader and has worked for many years in Kathmandu.
Room Details:
| Room Type | No of Rooms | Occupancy | Details |
| --- | --- | --- | --- |
| Standard | 3 | 2 | |
Map:
---
Riva Homestay can be reached quite easily from the main Darjeeling town. From the taxi stand take any taxi going towards Lebong, get down at the crossing for going to HMI and Zoo and the Homestay is just opposite on your left.