Humro Home Silent Hill Homestay
Preferred
Property Type - Homestay
Address - Darjeeling
6 Rooms
2 Floor
Check-In 12:00pm
Check-Out 11:00am
Outside View:
Property Description:
Orientation
If you stay at Humro Home Silent Hill Homestay, keep a flask of tea in your room to sip while enjoying the famous Darjeeling sunrise from your balcony. Our property, whilst located within Darjeeling, is still away from the hustle and bustle of the town.
Humro Home Silent Hill Homestay is a 2-storeyed modern brick house situated just beside the road. There is a drawing cum dining area on the ground floor, which also houses 3 guest rooms. The first floor has 3 rooms and the terrace on top completes the structure. There is a parking space in the front as well as towards the back. All rooms have a balcony from where you get an unhindered view of the surrounding hills. From the terrace, one section of the Kanchanjungha range can be seen and on a clear day, you are likely to get some fabulous snaps on your camera. The famous St.Joseph's College is 2.5 Km from here.
All rooms have a television and balcony. Each bedroom has an attached Western-style washroom with a geyser. There are small sitting areas in all rooms.
Food and Dining
You will be served local food here. Our Bengali guests can enjoy their favorite indigenous flavors, cooked by Ujjwal's mother.
Location / Accessibility
If you like to walk, then our homestay here is the perfect place for you. The sightseeing spots Tenzing and Gombu rock is within walking distance from our homestay. Tibetan Refugee Centre, Himalayan Mountaineering Institute, Darjeeling Zoo, and Roy Villa are close by, as well as the ropeway. The Darjeeling Mall is 15 minutes walking distance away. Apart from the popular sightseeing spots in Darjeeling town, you can enjoy the sunrise from Tiger Hill.
Most of the popular spots are within walking distance from our homestay. Our host will guide you with the directions for these and your day will be well spent in exploring the queen of the hills on foot. Darjeeling used to be very popular during summer earlier. Now, guests flock here almost around the year. Peak summer temperatures here vary between 19 and 25 degrees and winters can be very cold with average temperatures ranging between 6 to 11 degrees. At night, the mercury can drop to 2 degrees.
Host Overview: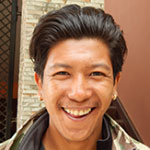 Mr. Ujjwal Deep Pradhan - Male
About Your Host
Ujjwal Deep is a young graduate who has worked in metropolitan cities like Kolkata, Delhi and Bangalore in call. Early this year, he decided to come back to his hometown, although the big cities were attractive, they did not hold the simple charms of the mountain life he had led for so many years.
Room Details:
| Room Type | No of Rooms | Occupancy | Details |
| --- | --- | --- | --- |
| Standard Double | 4 | 2 | |
| Three Beded Room | 2 | 3 | |
Map:
---
Once you reach Darjeeling, our homestay is about 4.5 Km from the Darjeeling bus stand, via Lebong Cart Road.
We are located at Khasmal Busty, Mulldara. Our homestay is just beside the road and you can drive right up to it. Parking is available in front and towards the back. The chief draw for tourists here is the view of the sunrise from each room's balcony and the terrace, which is breathtaking.