Humro Home Sillery Gaon
Preferred
Property Type - Homestay
Address - Sillery Gaon
4 Rooms
1.00 Rating
1 Reviews
Outside View:
Property Description:
Orientation
Humro Home Sillerygaon Homestay is located in the heart of Sillery gaon, constructed in typical Nepalese style offering 4 rooms with an attached washroom.
Our homestay offers 1 double bedded room and 3 rooms of 4 bedded room, accommodating 15 to 16 pax at a time. The dining hall is separate, situated above the cottage and the kitchen is typically local style where food is cooked on a fire.
Sillery Gaon is a small village near Pedong in the Kalimpong district. The village has close to 40 houses and it has become hugely popular in recent years due to the great mountain views from here. Sillery Gaon is also the base from where you can travel further to the famous Silk route. Zuluk and Nathan Valley tours can be conducted from Sillery Gaon and you can come back and stay here overnight.

Humro Home Sillery Gaon is a homestay located in the heart of the Sillery village. The village is just a 2 / 3-minute walk from the village entrance. Any part of the village can be accessed by foot within 5 to 7 minutes time from our homestay. The house is constructed in a typical Nepalese cottage style. Our homestay offers well-furnished rooms. There is one double bedded room that can accommodate 2 to 3 people and there are 3 rooms of 4 bedded each. All the rooms have modern amenities such as an attached washroom, western toilet, running water etc
We have well-furnished rooms with attached washrooms, 1 double bedded room, 3 rooms are 4 bedded. Geyser is not installed due to the low power supply in the area. We provide a bucket of hot water. The dining hall is situated above the cottage and the kitchen is typically Nepalese style where food is cooked in a fire oven. Our Homestay is surrounded by Cardomom plantations and the front side of our homestay offers a stunning view of Mt Kanchenjunga and the eastern part of Sikkim. You can enjoy the view even from your room itself. All together we can accommodate a maximum of 13 to 14 people at this homestay.
.
Food and Dining
We serve hygenic, simple good food cooked on fire. We serve both veg and non- veg meal, basically for non-veg we serve umlet at breakfast, egg curry at lunch and meat at dinner according to your advance order.
Location / Accessibility
The main attraction of Sillery Gaon is the mountain view which will keep you mesmerized for a major part of the time. The village is also part of the popular Silk Route circuit. You can stay at Sillery Gaon and go for a tour of the Zuluk - Nathan Valley area. You may also stay at Sillery Gaon for one night and at Zuluk for one night for a tour of the Zuluk circuit.
The Sillery Gaon to Zuluk tour is a full-day activity. You have to start in the morning latest by 8 AM and after a full day of travel, you will be back to Sillery Gaon in the evening around 5 or 6 PM. This day tour is the highlight for most tourists visiting the area.
Within the village, you can walk around and meet the locals. A small hike of 30 minutes will take you to a nice viewpoint about 2 km away from the village. Here you can see Mt. Kanchenjunga, river Teesta which separates two states West Bengal and Sikkim and can see the entire villages and small towns of Sikkim. A further trek of another 30 minutes can take you to Icche Gaon, another popular tourist destination nearby. If you wish to go for
If you are interested in hiking, there are small trials which lead to 'Damsangadi Fort'. The fort was built by the local Lepcha King in the 1690s and is in ruins at present. But a trek to the fort through forests and Cinchona plantation is truly worthwhile.
Sillery gaon is a small hamlet has a very few population of around 25-30 families residing here. They are friendly and always ready to welcome guests with smiling faces. The basic profession of these people is agriculture and milk products. But nowadays Sillery Gaon has become a popular tourist hotspot. So the people of the village have now embraced Eco-tourism and homestay it has become a main source of income.
The village is surrounded by tall pine trees and the only interruption is the chirping sounds of birds.
If you are a nature lover and want to stay far from city life "Sillery gaon " is the best place.
Kalimpong Town - 25 km, Zuluk - 73 km NJP - via Kalimpong - 95 km NJP - via Gorubathan - 119 km Bagdogra - 100 km
Icchey gaon - 16 km (on foot it's just 4 km though) Pedong - 8 km Darjeeling - 74 km Ramdhura - 14 km
Host Overview: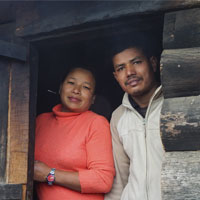 BARSHA TAMANG - Male
About Your Host
Barsha Tamang is a mother of two and works relentlessly to see happy guests. Krishna is equally persevering and leaves a smile on the faces of guests who visit the village. Together the couple manages the homestay. Their kids, a son and a daughter can also be seen going around the homestay with their daily affair.
Co Host Details
KRISHNA TAMANG - Male

Room Details:
| Room Type | No of Rooms | Occupancy | Details |
| --- | --- | --- | --- |
| Deluxe Double | 1 | 2 | Standard Room |
| Three Beded Room | 1 | 3 | |
| Family | 2 | 8 | |