Humro Home Sunrise View Point Ahaldara
Property Type - Homestay
Address - Latpanchar
2 Rooms
Outside View:
Property Description:
Orientation
Humro Home Sunrise View Point is a Homestay located not in Latpanchar village but about 3 km away from it. The place is known as Ahal Dara and it is technically in the Selphu Sittong Khasmahal area.
The main attraction of the place lies in the great view the place offers. Dara in the local language means hilltop and Ahaldara offer almost a 360-degree view of surrounding mountains and hills. You can see Kurseong, Darjeeling, and Kalimpong hills from here as well as river Teesta, the plains of Dooars and Terai, and of course the Kanchenjunga massif. All with the comfort of staying in a nice cozy homestay. There is also a small tea plantation owned by our Homestay owner next to the village.
Location / Accessibility
The path through the tea bushes, with the mesmerizing view all along, makes for a great leisurely hike, which is the chief form of activity here. Apart from this, you may wish to venture towards Sittong for some sightseeing. Latpanchar is home to the Rufus Neck Hornbill and other different species of Himalayan birds, so birdwatching is also a popular pastime.
There is a lot of open space in front of the cottages and once there, you will have your breath taken from you at the view. The valley falls away to one side, you can see Darjeeling on the left and Kalimpong in front across the valley. The Teesta river meanders across the foothills. At night, you can see the twinkling lights of these towns and the numerous villages dotting the hillsides. Some of the lights are moving - these are the occasional vehicles traveling through the hills.
Ahal Viewpoint is a stone's throw away, Namthing Pokhri is 10 minutes walking distance, and Jogighat is within a short driving distance which has the Riyang river flowing under the Jogighat bridge. Mongpu is about 18 Km from the homestay where you can visit Rabindra Smriti Bhavan and Orchid Garden.
Lepcha Gumpha is a 100-years old mud Gumpha or Monastery situated near Namthing Pokhri. There is n old ropeway bridge in Jogighat. Darjeeling (65 km) Kalimpong (55 Km) Siliguri (48 Km) Sittong, Ghaleytar, and Latpanchar are all within a radius of 3 to 4 Km of each other. There are 2 double bedrooms, Each room has 2 large beds, One is a king size and the other is a queen size bed. A maximum of 4 people can occupy a room.
Darjeeling (65 km) Kalimpong (55 Km) Siliguri (48 Km) Sittong, Ghaleytar, and Latpanchar are all within a radius of 3 to 4 Km of each other.
Host Overview: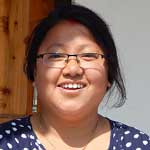 Ms. Neeta Chamling - Male
About Your Host
Mrs Neeta Chamling is born and brought up in Sittong and runs the homestay with her husband and mother. She started this homestay recently and is also planning to build more cottages. Being from the hills, she is naturally hardworking and takes an effort in looking after her guests.
Room Details:
| Room Type | No of Rooms | Occupancy | Details |
| --- | --- | --- | --- |
| Standard | 2 | 2 | Cottage rooms with view of surrounding mountain adjacent to a tea garden |