Humro Home Suntaleykhola Homestay
Property Type - Homestay
Address - Samsing
4 Rooms
5.00 Rating
1 Reviews
2 Floor
Check-In 12:00pm
Check-Out 11:00am
Built In 2014
Outside View:
Video Gallery:
Property Description:
Orientation
A Home Stay close to the Suntalekhola river. This is the last accommodation in the Samsing faribasty area before you reach Suntalekhola. The Homestay is managed by experienced owners who will make your stay memorable.
The name Suntalekhola is formed of two words, Suntale meaning oranges and khola meaning small hill stream in Nepali. The small stream nearby named after the popular oranges produced here is quite a popular destination for tourists visiting western Dooars. There is Suntalekhola Resort of WBFDC located in the vicinity. This accommodation is popularly also known as Suntalekhola River Camp. Our Homestay is the last private residence before you enter the forest area near WBFDC resort. We have two well-furnished rooms with attached washrooms installed with geysers and 24hr running water.
Humro Home here is a Suntalekhola Homestay located at Samsing in the Dooars area within the Darjeeling district. The Homestay is situated at a unique location where the mighty Himalayas begins to raise their head from Dooars plain. The area is surrounded by forest and a local village Faribusty.
Food and Dining
Hosts here are well-groomed in hospitality and they have been managing the affairs of the Forest Resort for quite some time. Food as in all the homestays around is sumptuous and hygienic but basic. If you are very specific about your food, you should discuss your requirement with our helpdesk before confirming the booking. Last-moment requests on the spot may not be served as the nearest market is at Mateli about 12 km away. Standard food consists of Rice, Roti, Chicken, Fish, Egg, vegetables etc. A menu can be found at the Homestay room where further details about the food are mentioned.
Location / Accessibility
Our Homestay offers a bird's view of the valley down below. You may end up spending a lot of time in your room and the veranda around. If you feel like walking, walk down to the Suntalekhola river hardly a few minute's walks away. This is a common tourist attraction that brings tourists from all around and you will find it a privilege to stay so close to the attraction. About a 5 km uphill trek will take you to the Mouchaki beat of Neora Valley National Park. A point worth visiting for the views even if you are not a wildlife or birding enthusiast. The Rocky Island is just 4 km away and can be reached in less than 10 minutes by vehicle. If you want to travel further, the entire Western Dooars can be visited by making your base here. Gorumara forests are 45 minute drive, the Chilapata forests are not much further either. The Jaldhaka Paren Bindu is about an hour through a shortcut road that not every driver is aware of. Even the Jaldapara forests can be part of your day visit itinerary from here.
Host Overview: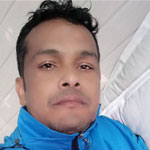 Nripraj Bhujel - Male
About Your Host
Nripraj is a local of Samsing. He plays an active role in dealing with his guests. Nripraj himself loves to travel and this makes it easy for him to connect with his guests.
Room Details:
| Room Type | No of Rooms | Occupancy | Details |
| --- | --- | --- | --- |
| Standard | 4 | 2 | Standard Room |