Silk Route Aritar Homestay
Property Type - Homestay
Address - Aritar
8 Rooms
5.00 Rating
1 Reviews
3 Floor
Check-In 12:00pm
Check-Out 11:00am
Outside View:
Property Description:
Orientation
The Aritar Humro Home is one of the better choices for tourist accommodation in Aritar. This can be your base for tours to East Sikkim and Dzuluk area. This accommodation is located about 3 km from the Aritar Lake, yet the area is secluded where you can enjoy complete peace and tranquility amidst nature.
Location / Accessibility
Aritar Lake - Lampokhri (Pokhri in Nepali means Lake) is the lake here that is more popular among tourists as Aritar Lake. The lake with its green water and surrounding jungles make for perfect sightseeing point. Boating facility is available in the lake. Aritar Lake is located in East Sikkim at an altitude of 5000 feet or 1400 meters.
Mankhim Hilltop - From the lake, you can take a narrow pedestrian road to reach Mankhim top on the other side of the lake. From Mankhim great view of the snow-capped peaks including the Kanchenjunga is visible. You can also see the green Aritar lake below. There is a small temple of the Rai community here. There is also a viewpoint for tourists at Mankhim. The Rhenock monastery is also situated in the nearby area. The popular tourist destination of Reshi is also within half an hours drive and can be visited easily.
Host Overview: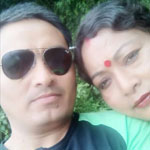 Sunil Pradhan - Male
About Your Host
Sunil Pradhan is a local who looks after his guests personally. He is assisted by his wife and family.