Humro Home Biren Homestay Dawaipani
Property Type - Homestay
Address - Dawaipani
3 Rooms
Outside View:
Property Description:
Orientation
Dawaipani is a village just 20 km from Darjeeling town. It is located on the hill at the back of Darjeeling town. An off-beat little destination, Dawaipani beckons you to immerse yourself within the folds of greenery and the awesome presence of the towering Kanchenjungha.
Our property is the first homestay as you approach the village. It is a fair distance from the village, somewhat isolated from the rest of the population. It is made partly of brick and mortar and partly wooden. The rooms are cozy and warm. It is a single-storeyed structure. The dining hall and kitchen are next to each other with the rooms being on the opposite side.
There is a small lawn in front of the homestay where you can sit and enjoy the view. In the daytime, the majestic mountains fill your range of vision and under the moonlight, it seems that you can reach out and touch the Kanchanjungha. It is one of the most beautiful and breathtaking feelings in your life. There are 3 Double rooms, which can accommodate up to a maximum of 3 persons each. Each room has an attached washroom, Western style with geysers.
Location / Accessibility
Darjeeling – 20 km. Lamahatta – 10 km. NJP – 80 km. Kalimpong – 43 km. Rangaroon – 18 km. Sittong – 31 km.
There is no real touristy activity in Dawaipani. Village walks and interaction with the locals are the chief pastimes here as people come to spend time here mostly for relaxation purposes. The twittering of many varieties of birds will keep you enchanted. Feel at one with nature. If you walk along the village roads, you may well spot some wild boars and barking deer.
Darjeeling town is a short driving distance from here and takes less than an hour to reach. All the local sightseeing of Darjeeling can be undertaken from here. Another option is to visit Rangaroon. This village with a great surrounding view is about 45 minutes drive away.
Host Overview: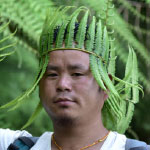 Biren Rai - Male
About Your Host
Biren Rai is a school teacher and nature-lover who actively participates in the preservation of local flora and fauna. He started his homestay a decade ago when he realized that his village could be a hub for nature lovers. Biren shares his knowledge of the local area with tourists and has inspired many others in the locality to start homestays
Room Details:
| Room Type | No of Rooms | Occupancy | Details |
| --- | --- | --- | --- |
| Standard | 3 | 2 | Standard |