Humro Home Siddharth Homestay Dawaipani
Property Type - Homestay
Address - Dawaipani
3 Rooms
1 Floor
Check-In 12:00pm
Check-Out 11:00am
Outside View:
Property Description:
Orientation
There is a story behind the name Dawaipani. It is said that many decades ago, a Britisher was riding his horse in this area when he was bitten by an insect and his leg was infected. In a futile search for medical aid, he stopped to drink some water from a stream flowing nearby and also cleaned the infected part of his leg with the water. The legend goes that his leg was thereafter miraculously healed and this story led to the village being christened "Dawaipani", which literally means "Water that heals". However, there is no such spring in the village itself as of now. There are some mineral springs further down the hill and inside the deep forests that can be reached on foot.
Dawaipani Siddharth Homestay sits about 6-7 steps climb downwards from the main road. The view from here is breathtaking, with the gorge dropping down before you and the mountain range just beyond.
Dawaipani is a village just 20 km from Darjeeling town. It is located on the hill behind Darjeeling. If you have ever been to Darjeeling Mall and have seen the hills towards the east of the town, Dawai Pani would be the village just directly opposite you.
The main activities are village walks, soft treks, birding, or just simply enjoying the exquisite weather. Like most offbeat destinations, Dawaipani does not offer you typical sightseeing options. From Dawaipani to Peshok Road hike is a popular trek. The distance is about 4 km and can be covered in less than an hour. There are also trek routes that will take you to the popular tourist destination of Lamahatta (about a 3-hour trek). There is another forested trek route that goes to the 3rd mile / Rangeroon area from here. More serious trekkers may also avail of a hike to Tiger Hill sunrise point. Birding here is also a popular activity. A variety of Babblers, Flowerpeckers, Sunbirds, Spiderhunters, Munia, Silverbill, Wagtail, Pipit, Rosefinch, Bluefinch, Tit, and other varieties of birds can be easily sighted here.
Location / Accessibility
A number of tourist places are available within a short drive of Dawaipani. Darjeeling – 20 km Lamahatta – 8 km NJP – 80 km Kalimpong – 43 km Rangaroon – 18 km Sittong – 31 km
The village of Lamahatta is about 8 km away and you can visit Lamahatta Park. Takdah is 15 Km away, a short drive that takes you to the famous Rungli Rungliot tea estate. You can also cover the popular sightseeing spots of Darjeeling town, which is about an hour's drive from here.
There is 01 standard double bedded room that can accommodate 2 persons with one washroom, which is why we recommend that the property is utilized by one family at a time. Apart from this, if there are more members, then there is another room that can house 2 people and one person can take the divan in the sitting room. Hence a family of 5 can book the whole homestay.
Host Overview: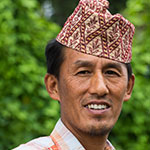 Mr. Dipendra Rai - Male
About Your Host
Mr Dipendra Rai is a local. He completed basic training at the Himalayan Mountaineering Institute (HMI). He used to be a professional guide earlier. His knowledge of the region comes in handy for guests. He has a small plot of tea bushes. Instead of sending the product to the factory, he makes tea at home through an indigenous process.
Room Details:
| Room Type | No of Rooms | Occupancy | Details |
| --- | --- | --- | --- |
| Family | 1 | 3 | |
| Standard | 2 | 2 | |