Humro Home Miknaon Inn
Property Type - Homestay
Address - Lava
8 Rooms
5.00 Rating
1 Reviews
4 Floor
Check-In 12:00pm
Check-Out 11:00am
Outside View:
Video Gallery:
Property Description:
Orientation
This small lodge of 10 rooms is located in the heart of Lava town. The property is spread over 4 floors and is situated in the main market area. Vehicles can reach the property though parking is not available at the property itself.
'Miknaon' is a Lepcha word that means 'Vision'. In an otherwise crowded marketplace of Lava, the vision of the owners of this home lodge is easily visible as you enter the well-appointed rooms with a wide view of Sikkim and Kalimpong hills from the back of the building. This accommodation probably offers one of the best views for any property at Lava. It also is one of the best-maintained properties in Lava.
All rooms have a TV with cable network and have attached western Washroom with running hot and cold water. There are a small kitchen and dining hall on the property. There are no lifts and all the rooms are on the upper floors of the property. Guests must be ready to take the stairs to reach their room
Food and Dining
We serve local, Nepalese, Lepcha, and Indian dishes.
Location / Accessibility
Lava is popular for its serene and beautiful views as well as its proximity to Neora Valley National Park (NVNP). The forests nearby are a bird watchers paradise. Neora valley is also home to a wide variety of flora and fauna.
There are a number of walking trails of varying difficulty levels nearby. The famous Rachela Pass trek is 12 Km from Lava and goes through some of the core areas of NVNP. Rishop is a 4 Km walk from here.
The Lava Monastery and the nature interpretation center are prime local attractions for local tourists. Both places are within walking distance from our accommodation. The Large Lava Monastery, named Jamgon Kongtrul Labrang is an eye-catching center of religious and tourist activity in Lava. The nature interpretation center, though not maintained to the expected level, is also an attractive place to learn about the local flora and fauna. There are several other attractions nearby that can be visited on a sightseeing tour.
Changey Waterfall and Kolakham are short and bumpy rides away. Rishyap can also be reached in a jiffy for its grand mountain view. People also visit Lolegaon and Pedong as part of local sightseeing from Lava.
Sillery gaon (23 km) Icche Gaon (24 km) Loleygaon (23 Km) Kalimpong (22 Km) Daragaon (20 km) Rikisum (12 km) Jhandi (18 Km) Rishop (10 Km)
Host Overview: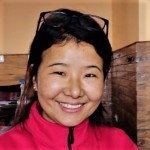 Jangu Lepcha - Male
About Your Host
Jangu is a tourism entrepreneur. She has developed a number of home lodges in her native village of Pedong and nearby villages such as the one at Lava. When in Lava, she personally takes care of the guests, at other times, one of her family members will be your host here.
Room Details:
| Room Type | No of Rooms | Occupancy | Details |
| --- | --- | --- | --- |
| Deluxe | 2 | 5 | |
| Suite | 3 | 6 | |
Map:
---
The nearest rail station is NJP (102 km) and the nearest airport is Bagdogra (120 km). The route to Lava passes through the Dooars area. Travel to Oodlabari, Damdim, and Gorubathan, and then climb the hills for the last 40 km to reach the lava.
The alternative route is to travel via Kalimpong. This route is shorter in terms of distance by about 12 to 15 km. But as you have to travel through the hills for almost the entire stretch of the journey, the total travel time via Kalimpong is much longer.