Humro Home Tinchuley Abiraj Homestay
Property Type - Homestay
Address - Tinchule
9 Rooms
Outside View:
Property Description:
Orientation
Tinchuley is a small village in the Darjeeling district. The Abiraj Homestay is arguably one of the better accommodations in the village. The property although known as a Homestay is more like a Lodge or Hotel as it has many rooms and a capacity to accommodate close to 50 guests at a time. It is professionally managed and offers clean rooms and a large dining hall. The Lodge is located right on the main road of Tinchule and is difficult to miss.
This homestay is situated close to the main junction of Tinchuley. It is a 2 storied building where most of the rooms are located. They also have extra cottages. You have to walk down a small flight of stairs from the main road to reach the property. This is a large accommodation which can accommodate a good number of tourists at one time.
The property is located on the main road of Tinchuley about a km from the heart of Tinchule village and its trijunction.
Location / Accessibility
Tinchuley is ideal for leisure tourists who want to spend a few days on a sojourn. You may walk around in the vicinity of the property. The road above the homestay, although is the main road, does not have too much traffic.
About a Kilometer North of the accommodation is the Gumbadara viewpoint which offers a 360-degree view of the surroundings. It is an ideal place to watch the sunrise or sunset. A couple of km in the other direction will take you to Takdah with its British colonial bungalow.
Takdah is about 3 km from here. Chota Mangwa village about 5 km. Bara Mangwa about 10 km. Lamahatta about 6 km.
Among major tourist destinations, Darjeeling is 26 km away Kalimpong is 30 km Bagdogra / NJP is about 75 km away
Host Overview: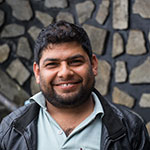 Mr Abiraj Bhandari - Male
About Your Host
Abiraj is a young entrepreneur who shows rare professionalism in an otherwise rural setup. He has learned his trade quite well and with his team of staff manages the property quite well.
Room Details:
| Room Type | No of Rooms | Occupancy | Details |
| --- | --- | --- | --- |
| Standard | 4 | 2 | Standard |
| Three Beded Room | 2 | 3 | |
| 4 Persons Family Room | 2 | 4 | |
| Standard | 1 | 6 | |