Humro Home Phurba Homestay
Preferred
Property Type - Homestay
Address - Chatakpur
4 Rooms
4.83 Rating
6 Reviews
1 Floor
Check-In 12:00pm
Check-Out 11:00am
Outside View:
Property Description:
Orientation
Chatakpur is a forest village situated under Senchal Wildlife Sanctuary at 7600 ft. Its population consists of only 19 families. Chatakpur came into existence during the time of the British. They required wood to build their homes and therefore put some local villagers to work on felling trees here. Slowly their numbers grew and eventually, this small village emerged as an independent location.
Phurba Homestay of Humro Home is a small Homestay with just 2 rooms. Mr Phurba Sherpa and his wife together take care of the guests here. This Homestay is one of the highest buildings in the village. This means you get the best view of the surrounding mountains from here. The popular Chatakpur viewpoint and watch tower are situated very close to the Phurba Homestay.
There are two rooms here, both rooms are newly constructed for guest accommodation purposes only. The host stays in his own house about 20 feet away, so you as a guest as well as the host both get your own privacy and yet can contact one another easily. Since we have just 2 rooms here, a two-family group is ideal as you will have the entire place to yourself. Both rooms have attached toilets with running hot and cold water. There is a small balcony outside the rooms and a flower garden in front.
Food and Dining
Food is basic, we do not offer anything luxurious or restaurant-like. The villagers will cook simple food and offer you the same. Breakfast consists of Roti sabji or Puri bhaji, lunch is normally of egg, rice and vegetables, and for dinner, we offer Roti with chicken, vegetables, dal etc.
There is no restaurant or similar facility here. Hence all accommodations are in the AP plan which means your meals are included in your accommodation package. There is a couple of small shops selling basic nick-knacks. If you require anything slightly out of the ordinary, you are recommended to bring it here.
Location / Accessibility
Chatakpur is not a place for usual sightseeing around. However interested tourists may visit Darjeeling and the surrounding area which all are within a driving time of 1 to 2 hours from here. So you can stroll around the village and forest. Darjeeling town is about 1.5 hour drive. Rangaroon, Dawaipani or Lamahatta villages can also be reached at a similar time. On the other side, you can visit Bagora 45 minutes drive away and the Sittong area would take about 1.5 hours.
Chatakpur is a hilltop not far from Darjeeling town. This is the hill next to the famous Tiger Hill which is famous throughout the world for its great view of Kanchenjunga in the morning. Chatakpur offers almost the same view as it is very similar to tiger hill in terms of altitude and location. In addition, while you have to drive to Tiger hill in the early morning, Chatakpur is where you will stay overnight and can witness the morning sunrise right from your balcony.
Chatakpur is a forest village, it is located within the boundaries of the Senchal forest. Hence there are certain restrictions on activities that can be undertaken in the village. Most tourists visit Chatakpur to enjoy nature's bounty and a great view of the surrounding area including an excellent view of Mt. Kanchenjunga range as visible from here on a clear day.
You are not allowed to enter the forest which can be risky. The forest is known to have a large population of leopards and bears among other animals. Hence venturing alone inside the forest is not recommended. There is a viewpoint on top of the village and close to Humro Home Phurba Homestay. This is the best vantage point for watching the mountains around. You can also go for a small walk around the village, one of the trails will lead you to a small lake inside the forest that the villages consider sacred.
Chatakpur is cold throughout the year. During summer you need to carry light woollens and during winter be prepared for sub-zero temperatures, especially during the night. The area is cloudy or misty for most of the day. Be prepared to deal with slight dampness and coldness here. Chatakpur is not accessible to tourists during the monsoon months. The forests and the homestays remain closed between the 15th of June and the 15th of September every year. This is also the time when you have the heaviest rainfall. Rainfall may arise any time of the year, snowfall occurs mostly between the end of December and January. Though snowfall here is not very common, the frost due on the grass and the tree leaves will announce the sub-zero temperature during the winter months.
Host Overview: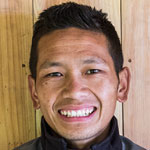 Phurba Sherpa - Male
About Your Host
Mr Phurba Sherpa is a hard-working young man from the village. He recently got job in the army so his wife Sangeeta and his father now look after the guests. Together they're very amiable people to live with.
Room Details:
| Room Type | No of Rooms | Occupancy | Details |
| --- | --- | --- | --- |
| Standard | 2 | 4 | OLD VIEW ROOM |
| Standard | 1 | 4 | NEW VIEW ROOM |
| Standard | 1 | 5 | NON VIEW ROOM |
Map:
---
There are three roads that converge at or near Chatakpur. The shortest road starts at Sonada, but the road is not recommended unless you are a local and very conversant with the road condition here. Also, there are forest gates on this road which may remain closed. The most common route originates at a place named Dilaram on the Kurseong – Darjeeling National Highway 110 also known as the Hill cart road. The road travels a distance of about 14 km to reach Chatakpur. The third road originates at a place named the 3rd mile on the Darjeeling – Kalimpong Peshok road and travels about 12 km to reach Chatakpur.
The road condition varies between bad to very bad and it is highly recommended that people unfamiliar with the terrain do not self-drive here. A vehicle with high ground clearance is recommended. Take the help of our team to book a vehicle transfer if you need to.