Humro Home Nirwan Homestay
Preferred
Property Type - Homestay
Address - Lamahatta
2 Rooms
1 Floor
Check-In 12:00pm
Check-Out 11:00am
Outside View:
Property Description:
Orientation
Humro Home Nirwan Homestay is a homestay with 3 double bedded rooms with an attached washroom with western commodes and a geyser.
Lamahatta has gained popularity among tourists for its peaceful environment, easy accessibility, and beautiful view of Sikkim hills and Mt. Kanchenjunga massif.
Humro Home Nirwan Homestay is an ideal place to enjoy the beauty of pristine Lamahatta. It is located opposite the eco-park which is a popular tourist attraction of Lamahatta. You can enjoy the majestic view of the Kanchenjunga massif and the hills of the neighbouring state of Sikkim from the homestay itself. the property has 3 rooms with an attached washroom installed with running water, an electric geyser, and a western commodate.
Food and Dining
The food served at our homestay is home-cooked. Our bookings are inclusive of all major meals as there are no alternative eating joints in the neighborhood.
We offer typical Nepalese and Bengali cuisine. Food is simple and hygienic and home-cooked. Do not expect a hotel and restaurant like the food here. We serve both veg and non-veg food options to our guests
Location / Accessibility
Lamahatta is situated on the Darjeeling Kalimpong main highway, so the place is very well connected. The village cluster of Tinchuley, Takdah, Chota Mangwa and Bara Mangwa is just half an hour's drive from here and can be a good option for local sightseeing.
You can also visit the tea gardens of the surrounding hills. Offbeat and new tourist destinations such as Rangeyroon and Dawaipani are also very close to Lamahatta.
Apart from the great mountain view, the other major attraction of Lamahatta is the Roadside Garden. This is an open garden surrounded by pine forests containing many seasonal flowers, as well as several rare and exotic species of orchid.
There is a wooden watchtower for tourists to enjoy the view of the surroundings. The village is situated on the main road itself and almost throughout the day vehicles pass through the road. But go just beyond the main road and you will find the peaceful nature of the surrounding village enticing.
Darjeeling is 19 Km Kalimpong - 31 km NJP - 71 km and takes about 3 hours through Teesta Bazar if you travel through the Darjeeling side the distance is about 10 km more then takes about 20 to 30 minutes extra.
Bagdogra Airport - 75 km, little over 3 hours travel time. Gangtok - 78 km and 3 hours drive away. Takdah / Tinchule / Chota and Baramangwa - This area is 8 to 10 km away through a short route via Lopchu Bazar area. The more reliable but slightly longer route of 11 to 14 km is through the 6th-mile bazaar.
Host Overview: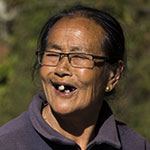 NIRALA TAMANG - Female
About Your Host
Mrs Nirala Tamang is a humble and polite lady who never hesitates to help her guests to be comfortable. She is the main host of the property and is often assisted by her sister. Both the ladies are quite senior and live a peaceful life in the village.
Room Details:
| Room Type | No of Rooms | Occupancy | Details |
| --- | --- | --- | --- |
| Family | 2 | 4 | |
Map:
---
Lamahatta is just 19 km from Darjeeling and 31 km from Kalimpong. If you are travelling from the Kalimpong side, you have to come to Teesta Bazar and then take the steep uphill Peshok road to reach here. From the Darjeeling side, you can come to Jorebungalow crossing and drive for about 14 km to reach here.