Humro Home Yalmo Homestay Lamahatta
Property Type - Homestay
Address - Lamahatta
4 Rooms
Outside View:
Property Description:
Orientation
Lamahatta village is located at an altitude of about 5700 ft and is approximately 20 Km from Darjeeling town. The localities are mostly Buddhist tribals like Dukpas, Sherpas, and Yalmos. Lamahatta is surrounded by pine trees and offers a beautiful view of the Kanchanjungha range. The term Lamahatta is derived from 2 words, Lama meaning Monk, and Hutta meaning Hut. In one word, it denotes a monk's abode.
Our homestay is located about 500 meters above Lamahatta park just on the roadside. Yalmo homestay was with 2 rooms. It has now grown to a 4-room property, equipped to host 12 persons at a time. It is a single-story building with reception, rooms, and a dining hall all located on the ground floor.
The rooms have carpeted floors. The walls are brick and mortar. The washrooms are Western-style and fitted with geysers. 4 Double bedded rooms. 2 rooms have attached and there is a third common washroom similarly styled.
Food and Dining
Situated close to Lamahatta park, the homestay is surrounded by pine forests on one side and the Kanchanjungha range on the other, from behind the property.
Location / Accessibility
Lamahatta is a destination where you spend time leisurely in the lap of nature. Enjoy the views, and take easy village walks. Lamahatta Park, just 500 meters away, is a nice place for children to play. For the more adventurous, you can take a trek towards Jorbunglow, which takes about 3 hours uphill one way. An escort will accompany you to show you the way.
The USP of Lamahatta is the shelter of the magnificent pine trees. Combined with the sight of the mountain peaks on the other side, it can be described as a haven for nature enthusiasts. You can also trek to Gari Danda Fort 3 Km away. Takdah Orchid Centre is about 5 Km away.
Host Overview: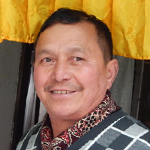 Mr. Tashi Yalmo - Male
About Your Host
Tashi Yalmo is a villager who runs a grocery shop which is right next to the homestay. 4 years ago, seeing the demand for tourist accommodation in Lamahatta, he decided to open up his home as a host with 2 rooms. He has now expanded the place and runs a successful homestay, sending back happy guests. He is helped by his wife in running the property
Room Details:
| Room Type | No of Rooms | Occupancy | Details |
| --- | --- | --- | --- |
| Deluxe | 4 | 2 | |
Map:
---
From NJP/Bagdogra, it takes about 2.5 hours to reach Yalmo Homestay. Via Sevoke Road and Peshok road.