Homestay of Anil and Rabin
Property Type - Homestay
Address - Lepchajagat
15 Rooms
Check-In 12:00pm
Check-Out 11:00am
Outside View:
Property Description:
Orientation
Till a few years back, this was a 2-room small homestay, then came the boom in tourism in Lepchajagat. One of the few to flourish and grow with time was this Tamang family as they, in two separate buildings, came up with 15 rooms and counting.
If you are looking for the experience of a homestay, none of the accommodations in Lepchajagat will fit your bill. But if you consider this as a budget lodge, you will find this accommodation arguably the best accommodation at Lepchajagat.
This Homestay/lodge is arguably located at the most vantage point of Lepchajagat. There are several pine trees around the property and from here you can see the full Darjeeling city and Kanchenjunga view.
Food and Dining
Veg and non-veg food are available here. Food is basic and home cooked. Do not expect anything fanciful here. Quantity is sufficient and cooking is hygienic.
Location / Accessibility
Sukiapokhari, just 4 km away is the nearest market. Maneybhanjan, the starting point for the Sandakphu trek, is a further 7 km from Sukiapokhari. Jorepokhari viewpoint and Shiv temple are also in the same area, a couple of km further from Sukiapokhari. Mirik is 26 km from Sukiapokhari and 30 km from Lepchajagat.
In the opposite direction, the eastbound road from Lepchajagat reaches Ghoom / Jorebungalow area about 8 km away. From here you can visit Darjeeling (11 km) or Rangaroon, Dawaipani, Lamahatta, etc which are well within 10 km from Ghoom.
Lepchajagat is a more suitable place for the sedentary traveler who wants to relax amidst nature. This lodge is an ideal place to relax. It has a large balcony and open space in front, which is a luxury in Lepchajagat as most of the other accommodations are constructed right on the main high road.
If you want to spend more active time, your first option is to walk up the hill behind this building and just a few minutes walk will take you to the hilltop. Here you can get a great panoramic view of the surroundings. The place is locally referred to as Sunrise point and there is a seating arrangement for guests here. More enthusiastic people can walk down to the forest bungalow, or even a 4 km, 30-minute hike can take you to the nearby Sukiapokhari bazaar.
Lepchajagat is popular as a destination with great views of the Kanchenjunga massif and Darjeeling town.
The view of Darjeeling is especially mesmerizing during the night when the whole city is lit. There are not many sightseeing options in the village itself. Most tourists go for sightseeing tours to nearby places such as Darjeeling, Lamahatta, Mirik, etc from here.
At an altitude of about 2100 meters (6900 feet), Lepchajagat is about 100 meters higher than the height of Darjeeling Mall (2000 meters, 6550 feet). Hence your preparation should not be very different. Warm clothing is required throughout the year, especially once the sun goes down, you can feel the strong wind accompanied by the chill. The winter temperature may go down to a freezing point on some occasions. Rain is very common and should be prepared for irrespective of your time of visit.
Host Overview: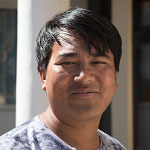 Anil Tamang - Male
About Your Host
Mr Rabin Tamang is a young and active host. He is attentive to guest requirements and has a smiling face at all times. Rabin is also a driver and guide. When the pressure on tourists is not very high, he himself takes his guests on a sightseeing tour around.